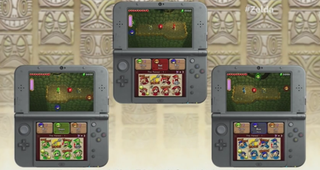 Nintendo ha anunciado durante su emocionante conferencia para la E3 2015 una nueva entrega de su mítica saga, The Legend of Zelda, esta vez para 3DS. Su nombre es Tri Force Heroes y está enfocada en el multijugador, por lo que podrás jugar con hasta dos amigos para superar todas las mazmorras y retos del juego.
La idea será superar problemas, mazmorras y retos junto a tus amigos, desde abrir puertas superando puzzles, hasta muchas cosas más. Para diferenciarte de tus amigos, podrás elegir diferentes ropas, desde el traje de siempre en diferentes colores, al vestido de Zelda o, lo mejor, disfrazarte como una bomba. Sí, una bomba.

The Legend of Zelda Tri Force Heroes estará disponible durante el tercer trimestre de este mismo año, y tendrá soporte para partidas en cooperativo local y en línea. Así, la Nintendo 3DS continúa ganando valor con cada vez más y más juegos fascinantes y prometedores.
***