2017 está a punto de finalizar, y desde Netflix ya nos preparan a los cambios que llegarán a su catálogo en el primer mes de 2018. Estas son todas las series y películas que vienen y se van de la plataforma, incluyendo producciones originales, comediantes y algo de anime.
Cinco argumentos ridículamente obvios para demostrar que la Tierra no es plana
Estados Unidos y Latinoamérica
En enero veremos la llegada de la nueva serie/reality de Jerry Seinfeld llamada Comedians in Cars Getting Coffe, en la que se reúne con otros comediantes en algún coche de lujo para conversar, tomar café y pasar un buen rato en medio de chistes. También llegará la cuarta temporada de Grace and Frankie, se estrenará la primera temporada de la adaptación del mítico manga japonés Devilman Crybaby, la nueva Pirates of the Caribbean y regresan un montón de películas de Batman. Enero será un buen mes para el catálogo de Netflix.
Todas las producciones originales de Netflix se estrenarán de forma simultánea en Latinoamérica. El resto del catálogo cambiará de forma similar.
G/O Media may get a commission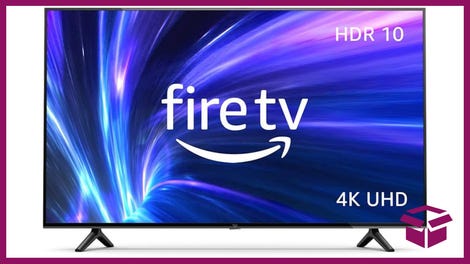 42% Off
Amazon Fire TV 50" 4K Smart TV
Series y películas que llegan en enero de 2018
1 de enero
10,000 B.C.

30 Days of Night

Age Of Shadows

AlphaGo

America's Sweethearts

Apollo 13

Batman

Batman & Robin

Batman Begins

Batman Forever

Batman Returns

Breakfast at Tiffany's

Bring It On

Bring It On Again

Bring It On: All or Nothing

Bring It On: Fight to the Finish

Bring It On: In It to Win It

Caddyshack

Chef & My Fridge: 2017

Defiance

Definitely, Maybe

Eastsiders – Temporada 3

Furry Vengeance

Glacé – Temporada 1
How to Lose a Guy in 10 Days

Justin Bieber: Never Say Never

King Kong

Lethal Weapon

Lethal Weapon 2

Lethal Weapon 3

Lethal Weapon 4

License to Wed

Like Water for Chocolate

Love Actually

Lovesick – Temporada 3
Maddman: The Steve Madden Story

Marie Antoinette

Martin Luther: The Idea that Changed the World

Midnight in Paris

Monsters vs. Aliens

National Treasure

Sharknado 5: Global Swarming

Stardust

Strictly Ballroom

The Dukes of Hazzard

The Exorcism of Emily Rose

The First Time

The Godfather

The Godfather: Part II

The Godfather: Part III

The Italian Job

The Lovely Bones

The Shawshank Redemption

The Truman Show

The Vault

Training Day

Treasures From The Wreck Of The Unbelievable

Troy

Wedding Crashers

Willy Wonka & the Chocolate Factory

2 de enero
Mustang Island

Disney's Pirates of the Caribbean: Dead Men Tell No Tales

Rent

5 de enero
Before I Wake

Comedians in Cars Getting Coffee

DEVILMAN crybaby – Temporada 1
Rotten

6 de enero
Episodes – Temporadas 1–5
8 de enero
10 de enero
47 Meters Down

Alejandro Riaño Especial de stand up

Captain Underpants: The First Epic Movie

In The Deep

12 de enero
Colony – Temporada 2
Disjointed – Parte 2

Somebody Feed Phil

The Man Who Would Be Polka King

The Polka King

Tom Segura: Disgraceful

14 de enero
15 de enero
2018 Olympic Winter Games Preview: Meet Team USA & Go for the Gold

Rehenes

Unrest

16 de enero
Dallas Buyers Club

Katt Williams: Great America

Rita – Temporada 4
17 de enero
Arango y Sanint: Ríase El Show

Friday Night Tykes – Temporada 4
18 de enero
Bad Day for the Cut

Tiempos de guerra – Temporada 1
19 de enero
Drug Lords – Temporada 1
Grace and Frankie – Temporada 4
The Open House

Trolls: The Beat Goes On! – Temporada 1
23 de enero
24 de enero
Ricardo Quevedo: Hay gente así

25 de enero
26 de enero
A Futile and Stupid Gesture

Dirty Money

Kavin Jay: Everybody Calm Down!

Llama Llama – Temporada 1
One Day at a Time – Temporada 2
Sebastián Marcelo Wainraich

The Adventures of Puss in Boots – Temporada 6
Mau Nieto: Viviendo sobrio… desde el bar

28 de enero
El Ministerio del Tiempo – Temporadas 1–3
29 de enero
30 de enero
Babylon Berlin – Temporadas 1 y 2
Death Race: Beyond Anarchy

Retribution – Temporada 1
31 de enero
Series y películas que se van en enero de 2018
1 de enero
Chicago

Daddy Day Care

Don't Be a Menace to South Central While Drinking Your Juice in the Hood

Dressed to Kill

E.T. the Extra-Terrestrial

Forrest Gump

Four Brothers

Free Willy

Grease

Gremlins

I Am Sam

Law & Order: Special Victims Unit: The Fifteenth Year

Law & Order: Special Victims Unit: The Fourteenth Year

Law & Order: Special Victims Unit: The Seventeenth Year

Law & Order: Special Victims Unit: The Sixteenth Year

License to Drive

Made of Honor

Mean Girls

Miss Congeniality

Miss Congeniality 2: Armed and Fabulous

Mona Lisa Smile

Pokémon the Movie: Diancie and the Cocoon of Destruction

Pokémon the Movie: Hoopa and the Clash of Ages

Pokémon: Indigo League – Temporada 1

Pokémon: XY – Temporadas 1 y 2

Police Academy

Pulp Fiction

Requiem for a Dream

Saw

Saw II

Saw III

Saw IV

Saw V

Saw VI

Saw: The Final Chapter

Someone Like You

The Addams Family

The Boy in the Striped Pajamas

The Day the Earth Stood Still

The Desert Fox: The Story of Rommel

The Inn of the Sixth Happiness

The Man with One Red Shoe

The Manhattan Project

The Mighty Ducks

The Parent Trap

The Secret Garden

The Switch

Three Coins in the Fountain

White Chicks

Young Mr. Lincoln

3 de enero
4 de enero
5 de enero
Fantasia

Fantasia 2000

The Host

15 de enero
Sirens – Temporadas 1 y 2

30 de enero
Futurama – Temporadas 7–10