Marzo está a la vuelta de la esquina, y será otro gran mes para el catálogo de Netflix en cuanto a contenido original. Este mes regresan varias de sus mejores series con nuevos episodios, incluyendo la segunda temporada de Jessica Jones y mucho más Voltron. Esto es lo que viene y lo que se va de Netflix en marzo.

Estados Unidos y Latinoamérica
En marzo llegan nuevos episodios de Jessica Jones, siendo esta la primera serie de Netflix y Marvel en regresar en 2018. También llega la segunda temporada de A Series of Unfortunate Events y la segunda temporada de la extraña serie Santa Clarita's Diet. Por último, este mes se estrena una miniserie original de Netflix sobre criminales llamada Collateral que se ha ganado nuestra atención, y la película The Outsider en la que el personaje de Jared Leto se une a la mafia japonesa de los Yakuza. Marzo estará lleno de contenido original.
Todas las producciones originales de Netflix se estrenarán de forma simultánea en Latinoamérica. El resto del catálogo cambiará de forma similar.
G/O Media may get a commission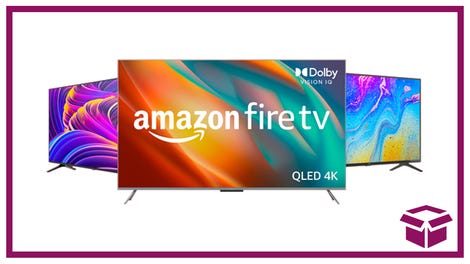 Ooh. stunning.
New Amazon Fire TVs
Series y películas que llegan en marzo de 2018
1 de marzo
300

21 Thunder – Temporada 1
2307: Winter's Dream

Adel Karam: Live from Beirut

Adventureland

Algo Muy Gordo
Alpha and Omega

Battle Drone

Beerfest

Casino

Cruel Intentions

Cruel Intentions 2

Cruel Intentions 3

Deathgrip

Forgetting Sarah Marshall

Ghostbusters

Ghostbusters 2

Gridiron Gang

Guess Who

Hostage

I Am Number Four

I Now Pronounce You Chuck and Larry

Jackass: Number Two

Land Gold Women

Law & Order: Special Victims Unit: The Eighteenth Year

Martian Child

Moon

People Like Us

Revolutionary Road
Stuart Little 3: Call of the Wild

The Brothers Grimm

The Bucket List

The Descent

The Descent: Part 2

The Experiment

The Fifth Estate

The Gift

The Lazarus Project

True to the Game

Untraceable

Up in the Air

Wet Hot American Summer

Women at War 1939-1945
2 de marzo
B: The Beginning – Temporada 1
Flint Town – Temporada 1
Girls Incarcerated – Temporada 1
Les Affamés 
Malena Pichot: Estupidez compleja

Natalia Valdebenito: El Especial

Voltron: Legendary Defender – Temporada 5
4 de marzo
Expedition China
The Joel McHale Show with Joel McHale
5 de marzo
F The Prom

The World's Most Extraordinary Homes – Temporada 1
6 de marzo
Borderliner – Temporada 1
For the Love of Benji
Gad Elmaleh: American Dream
7 de marzo
8 de marzo
Bad Guys: Vile City – Temporada 1
Ladies First

Marvel's Jessica Jones – Temporada 2
9 de marzo
A.I.C.O. Incarnation – Temporada 1
Collateral – Miniserie
Love – Temporada 3
My Next Guest Needs No Introduction With David Letterman: Malala Yousafzai

Nailed It – Temporada 1
The Outsider

Trolls: The Beat Goes On! – Temporada 2
10 de marzo
Septiembre, un Llanto en Silencio
12 de marzo
Kygo: Live at the Hollywood Bowl

Troy: The Odyssey
13 de marzo
Children of the Whales – Temporada 1
Ricky Gervais: Humanity 

Stretch Armstrong: The Breakout
Terrace House: Opening New Doors – Parte 1
15 de marzo
Jackass 3.5: The Unrated Movie

Power Rangers Ninja Steel – Temporada 1
Tabula Rasa – Temporada 1
The Hollywood Masters – Temporada 2
16 de marzo
Benji 

Edha – Temporada 1
On My Block – Temporada 1
Spirit Riding Free – Temporada 4
Take Your Pills 

The Legacy of a Whitetail Deer Hunter 
Wild Wild Country – Temporada 1
19 de marzo
20 de marzo
100 Years: One Woman's Fight for Justice

The Standups – Temporada 2
21 de marzo
Conor McGregor: Notorious
23 de marzo
Alexa & Katie – Temporada 1
Dinotrux Supercharged – Temporada 2
Game Over, Man! 
Layla M

Requiem – Temporada 1
Roxanne Roxanne 

Santa Clarita Diet – Temporada 2
SWORDGAI The Animation – Parte 1
The Mechanism – Temporada 1
24 de marzo
27 de marzo
28 de marzo
50 First Dates

Little Women

Never Back Down 2: The Beatdown

The Art of War
30 de marzo
A Series of Unfortunate Events – Temporada 2
First Match
Happy Anniversary
Miraculous: Tales of Ladybug & Cat Noir – Temporada 2, Parte 1
Rapture – Temporada 1
Reboot: The Guardian Code – Temporada 1
Sofía Niño de Rivera: Selección natural

The Titan

Trailer Park Boys – Temporada 12
Trump: An American Dream – Temporada 1
31 de marzo
Series y películas que se van en marzo de 2018
1 de marzo
A Gang Story

Anastasia

Baby's Day Out

Eyewitness

FernGully: The Last Rainforest

First Response

Forget and Forgive

Hitch

Jaws

Jaws 2

Jaws 3

Jaws: The Revenge

Less Than Zero

Memento

Slums of Beverly Hills

The Chase

The Craft

The Panic in Needle Park

Trigger Point

Two Wrongs

xXx

4 de marzo
6 de marzo
8 de marzo
11 de marzo
12 de marzo
Standby

Disney's The Santa Clause

Disney's The Santa Clause 2

Disney's The Santa Clause 3: The Escape Clause

13 de marzo
Breakout Kings – Temporada 1
City of God: 10 Years Later

London Has Fallen

The Killing – Temporadas 1 y 2

14 de marzo
19 de marzo
20 de marzo
22 de marzo
Steve Jobs: One Last Thing

24 de marzo
Voltron 84 – Temporada 1

Who Framed Roger Rabbit

26 de marzo
The Life Aquatic with Steve Zissou

29 de marzo
30 de marzo
Life in Pieces – Temporada 1

31 de marzo
Awake – Temporada 1
Bordertown – Temporada 1
Breakout Kings – Temporada 2
Brickleberry – Temporadas 1–3
Cooper Barrett's Guide to Surviving Life – Temporada 1
Friends with Benefits – Temporada 1
In Like Flint

Lights Out – Temporada 1
Rosewood – Temporada 1
Salem – Temporadas 2 y 3
Small Shots – Temporada 1
The Awakening

The Carmichael Show – Temporadas 1 y 2
The Chicago Code – Temporada 1
The Crazy Ones – Temporada 1
The Finder – Temporada 1
The Good Son

Traffic Light – Temporada 1
España
Ghost Wars – Temporada 1 (2 de marzo)

B: The Beginning – Temporada 1 (2 de marzo)

Black Lightning – Temporada 1 (6 de marzo, episodios semanales)

Jessica Jones – Temporada 2 (8 de marzo)

Love – Temporada 3 (9 de marzo)

Designated Survivor – Temporada 2 (9 de marzo, episodios semanales)

Collateral – Miniserie (9 de marzo)

A.I.C.O. Incarnation – Temporada 1 (9 de marzo)

Dinastía – Temporada 1 (10 de marzo, episodios semanales)

Annihilation (12 de marzo)

Benji (16 de marzo)

Santa Clarita Diet – Temporada 2 (23 de marzo)

Requiem – Temporada 1 (23 de marzo)

¡Game over, tío! (23 de marzo)

Mi primer combate (30 de marzo)

Una serie de catastróficas desdichas – Temporada 2 (30 de marzo)