Aparte de toparse con furiosas hordas de vecinos, o de visitar lugares realmente extraños, las cámaras de Google Street View también tienen curiosos encontronazos con la fauna salvaje. A continuación tenéis una serie de fotos de animales que acabaron inmortalizados por el servicio cartográfico de Google.
Muchas de estas fotos son tomas deliberadas de cuando Google ha visitado la gran barrera de coral o el Amazonas. Sin embargo, hay otras más casuales. Google ha seleccionado las imágenes para participar en un proyecto de la revista Nature llamado The Great Nature Project. Se trata de una colección de fotos de naturaleza reunidas por diferentes fotógrafos, empresas, personalidades famosas, o por los propios usuarios. Ya lleva más de 100.000 imágenes. [Google Maps on Great Nature]
Monos en el Parque nacional Jigokudani, en Yamanouchi, Distrito Shimotakai, en la Prefectura de Nagano, Japón.
G/O Media may get a commission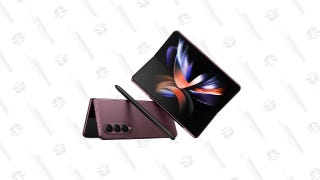 Save Up to $300
Galaxy Z Fold4
Tortuga marina en la costa de la isla de Heron, Gran Barrera de Coral. Australia.
Pingüinos en la isla de Media Luna, Islas Shetland, La Antártida.
Burro en Botsuana.
Rana en Río Negro, Amazonas, Brasil.
Gaviota en Brighton, Inglaterra.
Reno en Lebesby, Noruega.