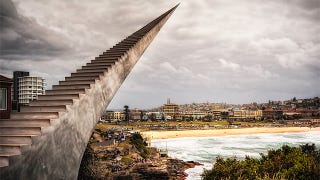 Fotografía: La escalera hacia el cielo existe casi de verdad. Se llama Diminish and Ascend y es una de las esculturas expuestas en la exhibición anual Sculpture By The Sea, en Bondi, Australia. El ángulo de la foto, tomada por Paul Davis, crea una ilusión óptica que nos hace pensar en una escalera kilométrica ascendiendo hacia el cielo. En realidad, es mucho más pequeña de lo que parece. Debajo, otras tomas.
Esta es la escultura fotografiada desde un ángulo más "terrenal":
Foto: AP
Estas otras dos tomas juegan con la perspectiva de forma similar a la primera:
Foto: William Patino
Foto: Leighton Wallis
Otras dos esculturas de la exhibición Sculpture By The Sea, la muestra de escultura al aire libre más grande de Australia.
Foto: AP
Foto: AP