Buenas noticias: el regreso de Ben Atfleck al universo de DC podría ser mucho antes de lo que habíamos imaginado. Como adelantó The Hollywood Reporter, la estrella de Aquaman, Jason Momoa, confirmó Ben Affleck volverá a interpretar su papel de Batman en su próxima película Aquaman And The Lost Kingdom.
Affleck no se ha puesto en la piel de Bruce Wayne desde 2017, cuando se estrenó Justice League, cuya grabación llegó a describir como "la peor experiencia de su vida". En los años siguientes (después de que Affleck renunciase oficialmente a su papel de Batman en 2019), Warner Bros. parecía haber explorado diferentes opciones para encarnar al famoso superhéroe, fichando finalmente a Robert Pattinson para The Batman. Sin embargo, en 2020, Affleck pareció cambiar de idea, asegurando que volvería a ser Batman en la película de The Flash.
Momoa publicó una foto de él y Affleck aparentemente en el set de la película, junto con una frase que decía "Bruce y Arthur reunidos de nuevo". (Por alguna razón Josh Brolin decidió escribir "Hahahahahaha" en el post de su amigo Momoa). De paso, Brolin también publicó una foto junto a Jason Momoa y refiriéndose a él como Aquaman, disparando de paso los rumores de que Brolin podría aparecer en la película también.
Warner Bros. se ha mantenido bastante callada sobre Aquaman 2 y se ha negado a mostrar imágenes de la película (incluso de ninguna de sus estrellas) en la Comic-Con de este año. La película, que estará dirigida de nuevo por James Wan, está previsto que vea la luz en marzo de 2023. Hay que recordar que el film se vio atrapado dentro del horrible torbellino que rodeó al caso de difamación entre Amber Heard y Johnny Depp, después de que tanto Momoa como Wan se opusiesen al estudio por querer mantener a Heard en la película.
G/O Media may get a commission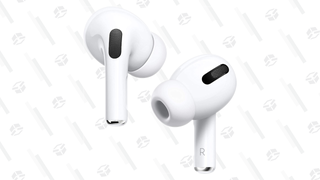 28% Off
Apple AirPods Pro Wireless Earbuds
Affleck ha interpretado previamente a Batman en Batman V. Superman: Dawn Of Justice, Justice League y Suicide Squad (aunque muy brevemente).