Se acerca un nuevo mes y con este un catálogo renovado para Netflix. Como cada 30 días el servicio trae nuevas series y películas, además de eliminar otras. Y para el último mes de 2016 veremos el estreno de la serie animada de Guillermo del Toro, Trollhunters, además de la segunda temporada de Fuller House.
En diciembre también veremos la llegada de otra película del universo cinematográfico de Marvel, Captain America: Civil War, además de muchas otras series originales de Netflix, incluyendo: Travelers, Ajin, Chasing Cameron y mucho más. La mala noticia es que se van algunos clásicos del catálogo, incluyendo esa obra maestra del horror y la ciencia-ficción llamada Event Horizon.
Por supuesto, el catálogo de Netflix varía dependiendo del país en el que te encuentras.
En Estados Unidos y Latinoamérica:
Los cambios que te vamos a presentar a continuación han sido anunciados para Estados Unidos, sin embargo, en la mayoría de casos se mantiene para los distintos países de Latinoamérica.
G/O Media may get a commission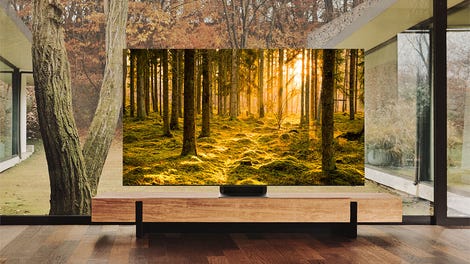 Up to 40% off
Samsung Smart TVs
Series y películas que llegan en diciembre:
1 de diciembre:
Always (1989)
Angels in the Snow (2015)
The Angry Birds Movie (2016)
Beverly Hills Cop (1984)
Beyond Bollywood (2014)
Black Snake Moan (2007)
Chill with Bob Ross: Collection (1990)
Compulsion (1959)
The Crucible (1996)
D2: The Mighty Ducks (1994)
David Blaine: Street Magic (1997)
Dreamland (2010)
For the Love of Spock (2016)
Girlfriends' Guide to Divorce (Temporada 2)
Glory Daze: The Life and Time of Michael Alig (2016)
Harry and the Hendersons (1987)
Hitler: A Career (1977)
Holiday Engagement (2011)
Honey, I Shrunk the Kids (1989)
House of Wax (2006)
Hannibal (2001)
The Little Rascals (1994)
The Legend of Bagger Vance (2000)
Merli (Temporada 1)
Merry Kissmas (2015)
National Lampoon's Animal House (1978)
Picture Perfect (1997)
Rainbow Time (2016)
The Rock (1996)
Rodeo & Juliet (2015)
The Spirit of Christmas (2015)
Swept Under (2016)
Switchback (1997)
Toys (1992)
Uncle Nick (2015)
Waking Life (2001)
Way of the Dragon (1972)
We're Back! A Dinosaur's Story (1993)
White Girl (2016)
Wildflower (2016)
Zero Point (2014)
2 de diciembre:
Fauda (Temporada 1)
Hip Hop Evolution (Temporada 1)
Pacific Heat (Temporada 1)
3 de diciembre:
Lost & Found Music Studios (Temporada 2)
5 de diciembre:
The Good Neighbor (2016)
Mad (2016)
6 de diciembre:
Blue Jay
The Devil Dolls (2016)
Homeland (Iraq Year Zero)
The Model (2016)
Reggie Watts: Spatial
8 de diciembre:
The Cuba Libre Story (Temporada 1)
9 de diciembre:
Captive (Temporada 1)
Cirque du Soleil Junior - Luna Petunia (Temporada 1)
Club de Cuervos (Temporada 2)
Fuller House (Temporada 2)
Four Seasons in Havana (Temporada 1)
Medici: Masters of Florence (Temporada 1)
Spectral
White Rabbit Project (Temporada 1)
10 de diciembre:
Lucky Number Slevin (2006)
Phantom of the Theater (2016)
11 de diciembre:
Breaking a Monster (2016)
12 de diciembre:
Ricardo O'Farrill: Christmas Special
13 de diciembre:
Colony (Temporada 1)
Killswitch (2016)
I Am Not a Serial Killer (2016)
Nobel (Temporada 1)
14 de diciembre:
16 de diciembre:
The Adventures of Puss in Boots (Temporada 4)
Barry
Call Me Francis (Temporada 1)
Crazyhead (Temporada 1)
No Second Chance (Temporada 1)
Rats (2016)
19 de diciembre:
20 de diciembre:
The Break (Temporada 1)
Disorder (2015)
Gabriel Iglesias: Sorry For What I Said When I Was Hungry
My Little Pony: Friendship Is Magic (Temporada 6)
Ten Percent (Temporada 1)
23 de diciembre:
Travelers (Temporada 1)
Trollhunters (Temporada 1)
25 de diciembre:
Marvel's Captain America: Civil War (2016)
When Hari Got Married (2013)
27 de diciembre:
Ajin (Temporada 2)
i (Temporada 1)
28 de diciembre:
Comedy Bang! Bang! (Temporada 5)
29 de diciembre:
The Hollywood Shorties (2016)
30 de diciembre:
The Eighties (Temporada 1)
31 de diciembre:
Series y películas que se van en diciembre:
1 de diciembre:
50 First Dates (2004)
American Beauty (1999)
Black Ops (Serie 2)
Camp Takota (2014)
Carmen Jones (1954)
Cats & Dogs (2001)
Curious George: Swings Into Spring (2013)
Don't Be a Menace to South Central While Drinking Your Juice in the Hood (2016)
Elizabeth: The Golden Age (2007)
Event Horizon (1997)
Frequencies (2013)
The Great War Diary (Temporada 1)
The In-Laws (2003)
McConkey
Medora (2013)
Monkey Business (1952)
Myth Hunters (Series 1 y 2)
Neil Young: Heart of Gold (2006)
The Out-of-Towners (1999)
Paycheck (2003)
Pirates Who Don't Do Anything: A VeggieTales Movie (2008)
River of No Return (1954)
Sling Blade (1996)
Thor: Hammer of the Gods (2009)
Top Gun (1986)
Valley of the Dolls (1967)
World Trade Center (2006)
2 de diciembre:
Legends of the Knight (2013)
The Red Baron (2008)
3 de diciembre:
5 de diciembre:
14 de diciembre:
15 de diciembre:
High Profits (Temporada 1)
World War II in Colour (2009)
16 de diciembre:
22 de diciembre:
26 de diciembre:
27 de diciembre:
31 de diciembre:
Hercules: The Legendary Journeys (Temporadas 1-6)
Una vez esté disponible las novedades en el catálogo para España actualizaremos el artículo.
---